PRESS RELEASE, NOVEMBER 2020
Four Irish distilleries have bottled the spirit of Ireland's Wild Atlantic Way this Christmas with Coast Road, an elegantly presented gin sampler gift set of four award-winning coastal gins from the west coast of Ireland.  Surprise the gin lover in your life with this unique gift set which features distinctive Irish gins from Sliabh Liag Distillers in Donegal, Micil Distillery in Galway, Skellig Six18 Distillery in Kerry, and Cape Clear Island Distillery in West Cork.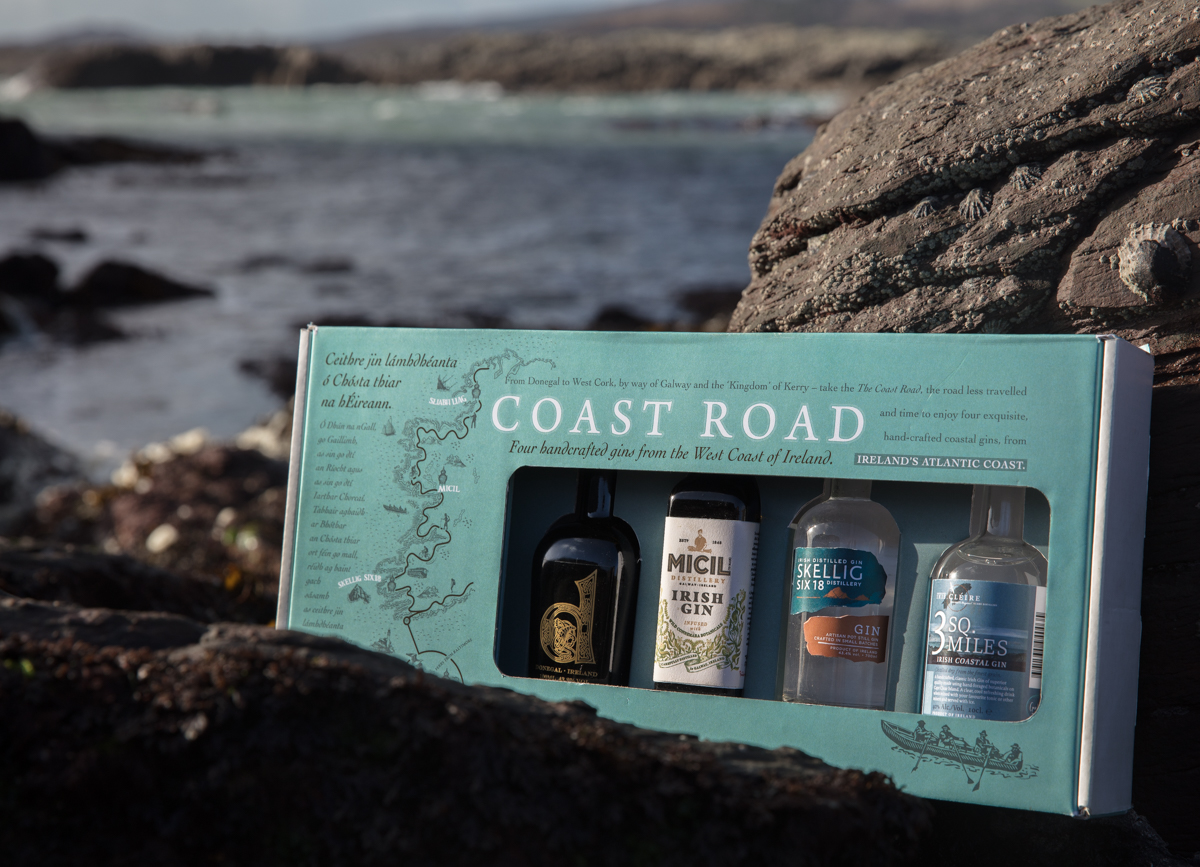 "This was an idea waiting to happen," says Séamus O Drisceoil, Founder and Manager of Cape Clear Island Distillery, who assembles the giftsets: "By coming together, four of Ireland's smallest distilleries are hoping to bring a smile to many faces this Christmas, sharing the enthusiasm and passion that's behind the renaissance of our small coastal distilleries along Ireland's Wild Atlantic Way."
"These are authentic craft gins, produced in small batches using locally harvested plants and seaweeds to create very distinctive gins where the taste and sensation of the sea itself is carried through." adds Séamus. "Our Coast Road giftset is aimed at discerning and experimental gin lovers and contains four 100ml bottles, allowing each gin to be savoured with different mixers and garnishes. The gift pack comes with an interesting booklet which will, no doubt, further titillate with visions of get-togethers to come again."
"It has been a singular year for everyone and a difficult one for too many small businesses; this giftset is the essence of shopping local and supporting jobs along the west coast of Ireland," Séamus added.
THE DISTILLERIES
An Dúlamán Irish Maritime Gin from Sliabh Liag Distillers captures "Draíocht na Farraige" (the magic of the sea) by using five locally harvested varieties of seaweed, as well as six other botanicals. This makes An Dúlamán as unique as the Donegal coast itself, with a taste that captures fresh juniper, an umami richness, and the dry tang of sea breeze.
Micil Irish Gin is a luxury Connemara Gin with extraordinary flavour, handcrafted in Galway by a family of 6th generation poitín distillers using wild Connemara flowers and herbs. It's handcrafted in tiny batches with local ingredients to the fore including bog myrtle, hawberry, heather and bogbean. Tasting notes of fragrant Connemara heather and citrus nose, with notes of bog myrtle, lemongrass, warm spice, and a smooth, silky finish.
Skellig Six18's pot distilled gin is made in small batches and hand finished at the distillery in Cahersiveen. The local botanicals include yarrow (which was traditionally worn by pilgrims to protect them on their journeys), fresh douglas fir needles, birch sap and a pinch of dilisk; the distillates are slowly blended to give that integrated taste with a mineral finish and pink citrus notes – an excellent aperitif.
Inis Cléire 3 SQ. MILES Irish Coastal Gin is made by Cape Clear Island Distillery, Ireland's first offshore Gaeltacht distillery, which is located on Cape Clear Island off the west coast of Cork.  The gin is blended with locally sourced botanicals such as fuchsia, honeysuckle and laminaria digitata, a form of kelp found growing on the island seashore. The gin gets its name from the island which is just 3 miles long and just 1 mile wide, and islanders have created their own distinctive blend of aromatic gin, with a creamy mouth feel, hints of sweet honeysuckle and a spicy peppered finish.
"It took us quite a long time to come up with this recipe" says Séamus Ó Drisceoil: "We had a lot of help from botanists and people involved in foraging and we feel we have found a gin true to the spirit of Oileán Chléire, to the wildlife and the wonderful seascape we have here. With the new Coast Road giftset, our gin is in good company and we're delighted that people can experience a taste of some of the best gins along the Wild Atlantic Way."

The Coast Road Multipack costs €49.99 and is available from Celtic Whiskey Shop and Irish Malts.