Cape Clear Island Distillery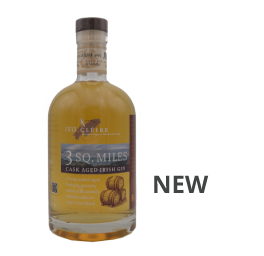 We've taken our award-winning gin and aged it in casks for six months to create this outstanding product.
3 SQ. MILES: an award-winning gin from Ireland's only island distillery
The recipe for 3 SQ. MILES gin was developed by a dedicated committee of islanders and it is produced in small batches. It's a two-day effort to create the gin, with one distillation consisting of juniper berries, coriander, and cubeb and another distillation incorporating the island-harvested fuchsia, honeysuckle, and laminaria digitata (a type of sugar kelp). These island botanicals are harvested by locals from the fields and hedgerows of Cape Clear Island, and in the case of the laminaria digitata, from the rocky shoreline directly in front of the distillery.
3 SQ. MILES gin has won some incredible awards from prestigious international competitions, including Silver at the 2020 San Francisco International Spirits Competition, Silver at the 2020 London Spirits Competition, and Gold at the 2020 Bartender Spirits Awards in San Francisco.
"3 SQ. MILES is a gin that is very fitting of its location and has a real sense of place. Alongside juniper, citrus and spice, the use of kelp brings a gentle aroma of sea air and on the palate there are delicate floral notes from the locally foraged fuchsia and honeysuckle. There core flavours are pleasingly traditional and the mouthfeel is smooth and full-bodied. The finish brings warming cassia, citrusy spice from coriander seeds, a peppery kick from cubeb and subtly sweet citrus. With tonic, some of the brighter, fresher and more floral notes are elevated on the nose and palate, resulting in a well-balanced and harmonised combination of classic gin botanicals with citrus, spice, coastal and floral notes. Citrus fruits make for ideal G&T garnish with 3 SQ. MILES and a Martini, Negroni or Bramble are ideal cocktail serves."
– Paul Jackson, The Gin Guide, 2020