Dún an Óir Premium Irish Whiskey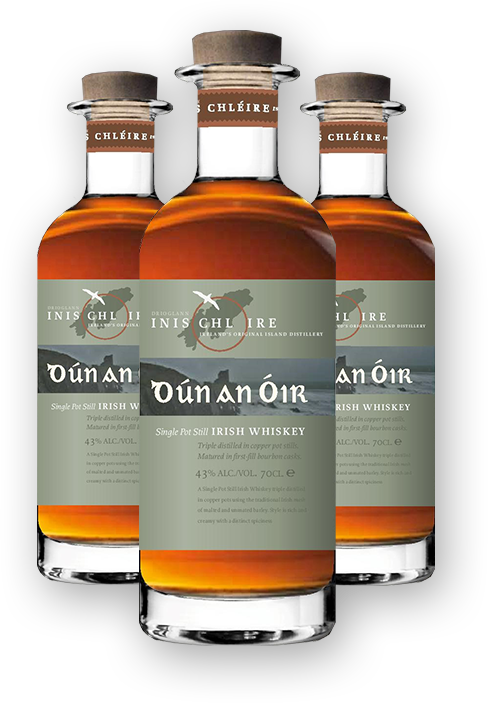 Our triple distilled, classic Irish whiskey will be well-crafted and distinct, made with 100% Irish barley and water sourced from our island well. Clear Atlantic rain, filtering through our sandstone landscape, provides us with fresh water for a whiskey that will combine smooth maturity with an enveloping presence of the ocean.

Our unique island micro-climate will add to its balance and complexity. It will mature in white American oak bourbon casks, and will be finished in Iberian oak oloroso sherry casks.

We have developed product labels which showcase various features of Cape Clear's history, culture, and geography and give insight into how we will create distinctive world class products.
Beidh ár fuisce Éireannach, driogtha trí huaire, clasaiceach ach éagsúil, ag baint úsáid as 100% d'eorna Éireannach. Scagtar an fearthainn Atlantach  trí thírdhreach gaineamhchloch chun úruisce  a sholáthar a nascfaidh  aibíocht mhín le cúlra na farraige.

Beidh cothromaíocht, castacht, agus aibíocht ag éirí as an mion-earráid Oileánach. Úsáidfear bairilí "bourbon" dair geal Meiriceánach ar dtús, agus críochnófar an fuisce i mbairilí seirís oloroso déanta as dair Spáinneach.

Tá lipéidí deartha againn a léiríonn gnéithe de sheanchas, cultúr agus tíreolaíocht an Oileáin, a nascann leis na buntáistí eile go léir atá againn, chun táirgí a thuillfidh clú domhanda a sholáthar.