Imagine this…  It's summertime.  The sun is shining and the temperature is warm.  You step aboard the ferry in Baltimore and take in the fresh sea air.  The crossing to Cape Clear Island is breathtaking.  You stand on the top deck of the ferry, next to the wheelhouse, and relish in the views: the Baltimore beacon, the ruins of the abbey on Sherkin Island, the fishing boats…  Then, there it is – Inis Cléire.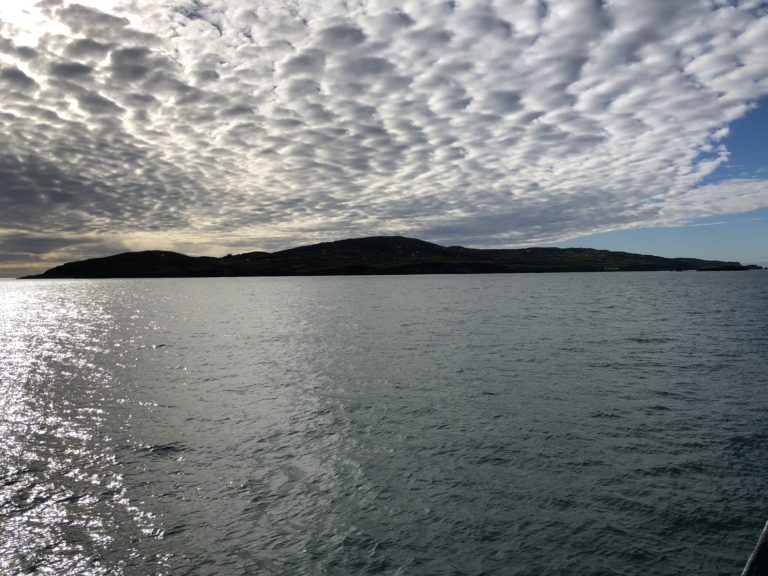 Anticipation builds as the captain brings the ferry into the harbour, and pulls up to the pier.  You step off the ferry and see that the brand-new electric bus is there, awaiting passengers.  You step onto the bus and off it goes.  Up past the pub, down near the beach, past ancient stone walls and lazy cattle…  You step off at the Cape Clear Island Distillery Visitor Centre.  It's up a small rise, overlooking the sea and out toward Schull.
You take in the visitor centre experience, see the operations, meet one of the distillery founders and the master distiller…  Then, it's time to have a seat at a seaside table and taste the product.  First, the silky-smooth, ultra-refreshing "3 Square Miles" gin.  Our Irish craft gin is the perfect drink for a warm day by the sea!  Next out is the triple distilled, classic Irish premium whiskey, fresh out of the barrel after three years.  It doesn't get much better than this.
You'll be able to have this experience soon!  We, at Cape Clear Island Distillery, are working hard to bring you "3 Square Miles" gin by this summer.  Whiskey will be a bit further along, but we look forward to bringing it to you.  Want to stay up to date on progress?  Sign up for our newsletter, and you'll be with us every step of the way.  Sláinte!